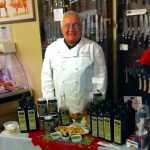 December 3, 2022-Toronto Ontario-Jim S. said "BTW, your olive oil is outstanding, thank you.
****
May 28, 2022-London Ontario-Kara said "I met you at Angelo's Bakery in London yesterday as you were promoting your olive oil and suggested one for me to use for salads. I just wanted to tell you I just finished the best salad ever!!!  Your olive oil is fabulous and the best one I've ever tasted.  My sincere compliments….I will make sure to tell others about it. What a difference. And I'll take your advise to drink some morning and night, big salad spoon full….Kara.
****
March 2022-Toronto-Panayiota called to say that a drop or two of room temperature SRH evoo, cleared her waxed up ear.
****
Oct. 2021-Guelph-Received the case of olives with great appreciation. I will share them and hopefully more people will buy them They are the best!
****
Sept. 2021-Vancouver-I can not find such beautiful olives packed in olive oil anywhere in Vancouver. They are so tasty and flavourful and the oil is wonderful on salads etc.
****
June 2021-Toronto-From Nick.."Excellent λάδι"
****
April 2021-Yellowknife Yukon -From Frank and Anne T.
"The flavour of the Spartan Olive Oil is like getting close to being in Heaven but still having you feet on the ground in this world. Simply the very best."
****
April 2021-Pacific Palisades California from Alana U.
"I'm an olive oil connoisseur. We have tried many brands on the market and this olive oil is the most authentic in taste and quality.  Whenever we use it, we can imagine sitting in Greece enjoying an amazing meal."
****
February 2021-London Ontario from Jeff W
"Hi John,
I'm watching the Leaf game and decided it was time to crack open the jar of olives that was in the gift basket.  I started snacking on them and I can't stop. They are fantastic!
Thanks!"
****
Subject: "Best olive oil I have ever had."
"Hello Nick and John,
I purchased a bottle of your organic olive oil from you at The Healthy Butcher the other day.  I just wanted to let you know this is the best oil I have ever used.
Many thanks for the excellent product.  It is nice to use the finest ingredients when cooking, and this oil is definitely of the finest quality.  I will highly recommend this to my friends and family.
Sincerely, David C…….."
****
"I really love this product and I hope you continue to offer this product in Toronto forever.  What an amazing addition to my cooking arsenal.
I truly believe in hand made products.  I believe you can taste the extra love and effor.  The processes by hand can never be matched by machinery or automation.  This oil is proof that old-world techniques produce the best end product.  I feel like when I add this to a dish, I am adding something that someone deeply cares about, and has a passion for.  Labour intensive processes like olive oil and maple syrup intrigue me, as I am very certain the amount of effort and energy that goes into its production, comes through in the end product.
I made a really good vinaigrette up when I got home from the store, as I had bought your amazing Olive oil, and an organic Ontario Maple syrup.  A celebration of two of the planets most extremely labour intensive crops.
1 Tbsp Pure Maple Syrup
1 Tbsp Sherri wine Vinegar
3 Tbsp of your Olive oil
Salt and pepper to taste
An amazing dressing….  great on a salad with walnuts, as the maple/walnut combo is beautiful.
Sincerely, David C……."
****