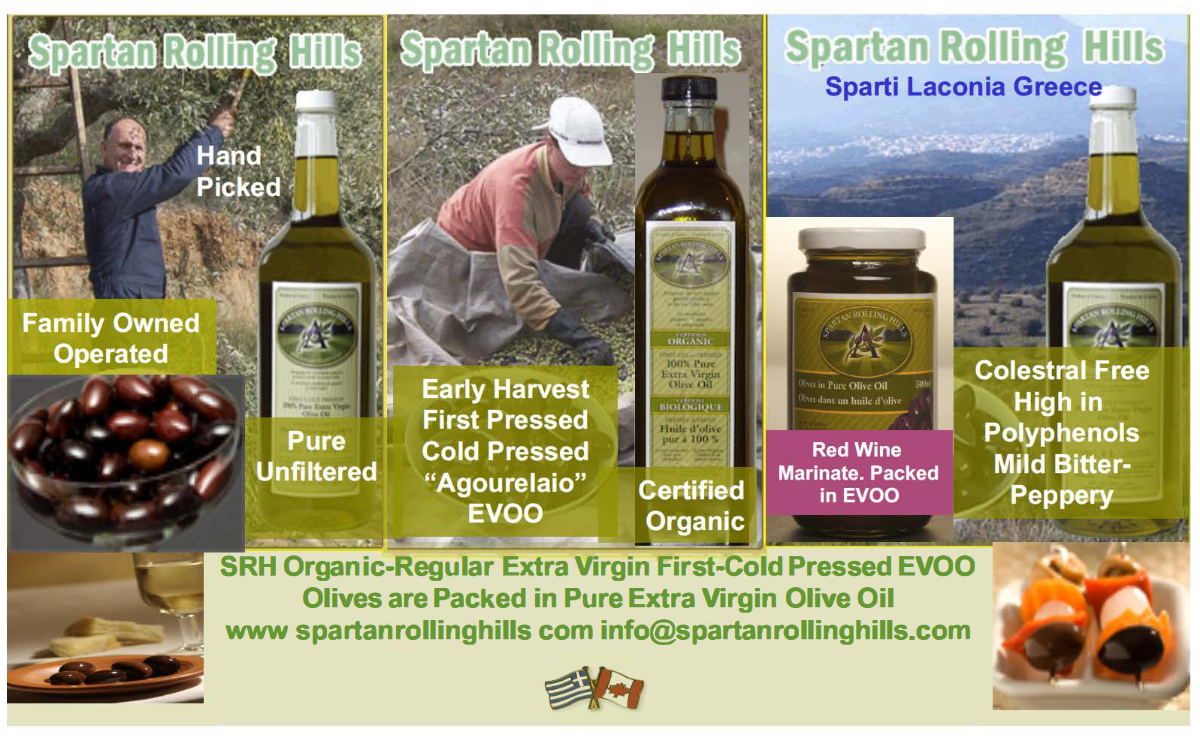 Welcome to Spartan Rolling Hills website.  We endevour to provided relevent and current informaiton about olive oil and our products. 
"Bringing the very highest quality products to the everyday table." FROM OUR GROVES from the PELOPONNESE LACONIA GREECE, ONE OF THE WORLD'S RENOWNED AREAS FOR PRODUCING EXCELLENT OLIVE OILS. Harvested in Greece, bottled and packaged in Canada.
Exceptional quality, 100 % Pure, Unfiltered, No Cholesterol, Agourelaio (early harvested) Regular and Certified Organic Cold First Pressed Extra Virgin Greek Olive Oil ( Greek EVOO) with Oleic acidity  of < 0.8% and Olives cured in wine vinegar, sea salt and packed in extra virgin olive oil. 
Our early harvested, unfiltered "Agourelaio" literally means  "unripe olive oil".  Extra virgin olive oil extracted from this olive fruit is distinct for its rich green colour, fruity aroma and a slightly bitter and pepery flavour.
To achieve our goal, we bring to you 100% pure, unfiltered, early harvested authentic Greek olive oil and olives. They are from our family olive groves and those of our neighbours and friends located in the sun drenched rolling hills of Sparti Laconia Greece. 
Tree types include Manataki, Koutsourelia. Kakoni and Athenolia.  They are harvested during late November to January, producing a dark green, olive flavoured,  aromatic olive oil with a slight peppery and bitter after taste. Fantastic for salads, dipping and cooking…yes you can cook with good quality olive oil.
We are involved with every step of the proces so the highest quality product is delivered every time. This includes hands with the cultivation, harvest, processing, bottling, distribution, store shelf location, tasting/samplings and consultation with our retail business partners.

Here are some points of interest from independent sources and individuals.
The Mediterranean diet, as described by The Mayo Clinic, consists primarily of fruits and vegetables, whole grains, legumes, and nuts. In the diet, butter is replaced with healthy fats such as olive oil, and flavoring is done with herbs and spices instead of salt. Red meat consumption should be limited to a few times a month while fish and poultry is consumed at least twice a week. Drinking red wine in moderation also is beneficial.
According to researchers, consumption of extra-virgin olive oil protects memory and learning ability and reduces the formation of amyloid-beta plaque and neurofibrillary tangles in the brain, both classic Alzheimer's hallmarks.
The study, "Extra-virgin olive oil ameliorates cognition and neuropathology of the 3xTg mice: role of autophagy," was published in the Annals of Clinical and Translational Neurology.
An authentic great Spartan Horyiatiki Greek Salad recipe from Trish Stratus?
Yes, Yes, Yes, you can cook a main course to desserts using good quality olive oils…especially Greek EVOO….and for more about cooking with olive oil visit:The Olive Oil Source. Or Health Impact News.
And if you have time, take a look at these additional independent sources.
Check the Store Locator for a retail location near you to buy our Spartan Rolling Hills products. We do ship to anywhere in the world.