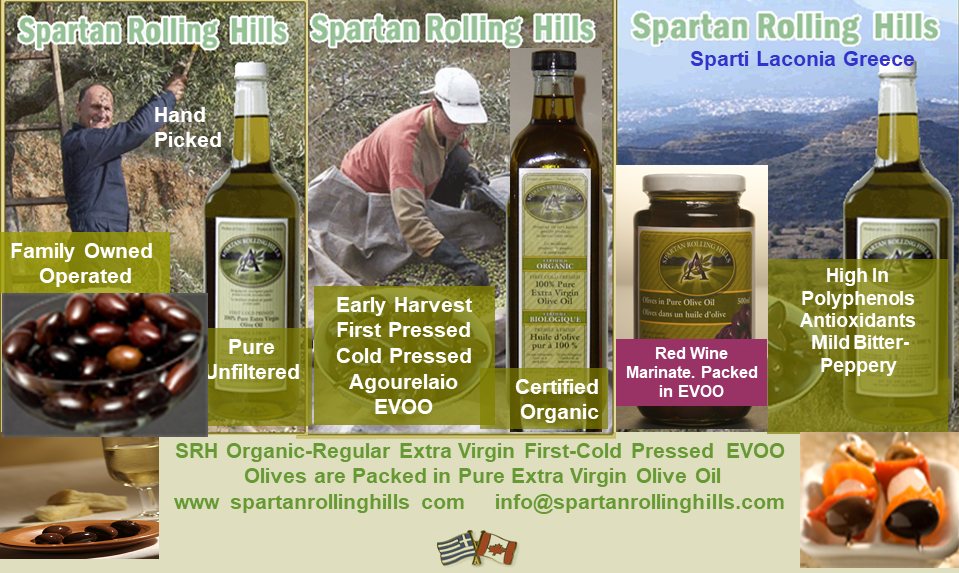 HAPPY NEW YEAR FOR 2023
"Bringing the very highest quality products to the everyday table." FROM OUR GROVES from the PELOPONNESE LACONIA SPARTI GREECE, ONE OF THE WORLD'S RENOWNED AREAS FOR PRODUCING EXCELLENT OLIVE OILS. Harvested in Greece, bottled and packaged in Canada.

Our early harvested, pure, unfiltered Extra Virgin Organic and Regular olive oils (EVOO) and olives come from our family and neighbour's groves located in the rolling hills of Spartan Laconia region in the Pelloponese. They are surrounded by mountains and sun drenched long sunny days. Ideal growing conditions for excellent quality olive oil and olives.
The harvesting varies from year to year, grove to grove, tree type. In general it is during the earlier crop season from late November to January, when the fruit is still not fully mature to produce "agourelaio" ("immature" olive oil).  Our early crop "Agourelaio" literally means  "unripe olive oil".   Extra virgin olive oil extracted from this fruit is distinct for its rich green colour, fruity aroma and flavour, high in polyphenols/anti oxidants with a slightly bitter and peppery flavour.  Both the Regular and Organic olive oils taste as if they were harvested yesterday.
All of the Spartan Rolling HIlls Organic and Regular Extra Virgin Olive oils have a rich dark olive green colour, a flavourful village flavour with a slightly  bitter and peppery taste. It is appreciated and sought after by olive oil connoisseurs.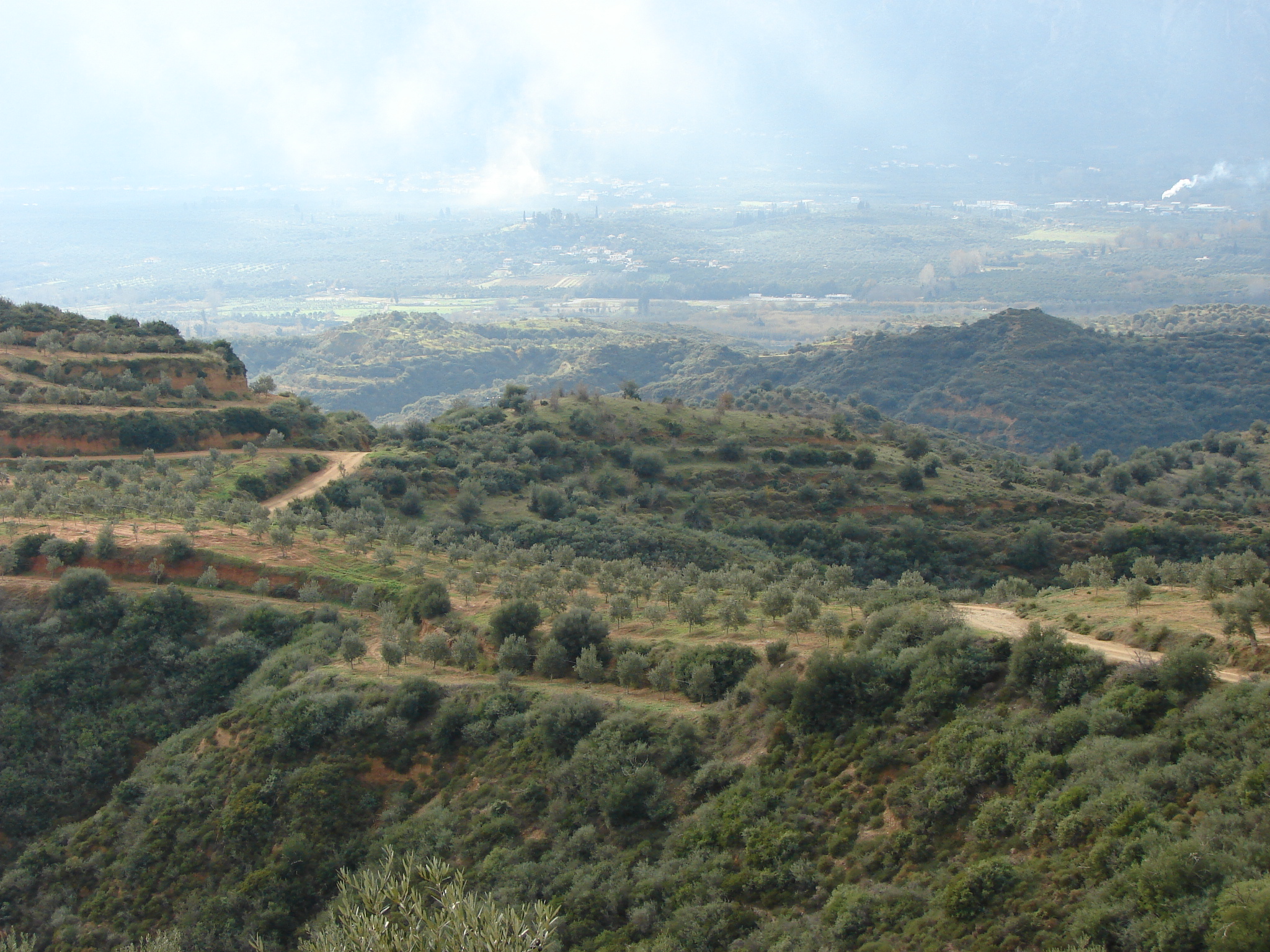 Tree types include Manaki/Manataki, Koutsourolia, Kakoni and Athinolia, each providing their own distinct qualities and flavours.  The olives for eating are from different groves and tree types.  
In order to ensure that the olive fruit is not damaged during harvesting, the picking is done by hand.  Hand operated vibrating arms are used to shake each branch to reach the upper branches.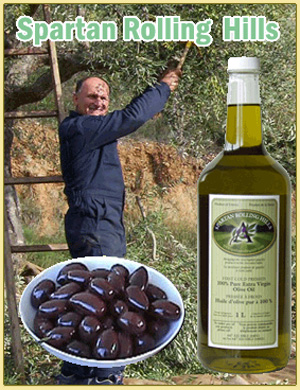 In more challenging groves, ladders and a rake-like device is dragged over the branches by hand. At the same time that the olive fruit is picked, the tree is pruned to get it ready for the next growing season. And as important, taking the olives for pressing within 24 hours is a must to prevent fermentation.
This job calls for the whole family to help. Family members travel from Canada to supervise and participate in the annual harvest. Neighbours, friends and relatives help each other by picking each other's olives when theirs are not ready yet. Everyone shares in this strenuous, time consuming and exhausting effort.
Depending on this size of the tree, it can take two people between two hours to half a day to pick an olive tree. An experienced worker can pick about 80 kg of olives each day and it takes 5 kg of olives to make a litre of oil. This is why good quality olive oil is more expensive compared to other oils.
The olives are placed in baskets and at times,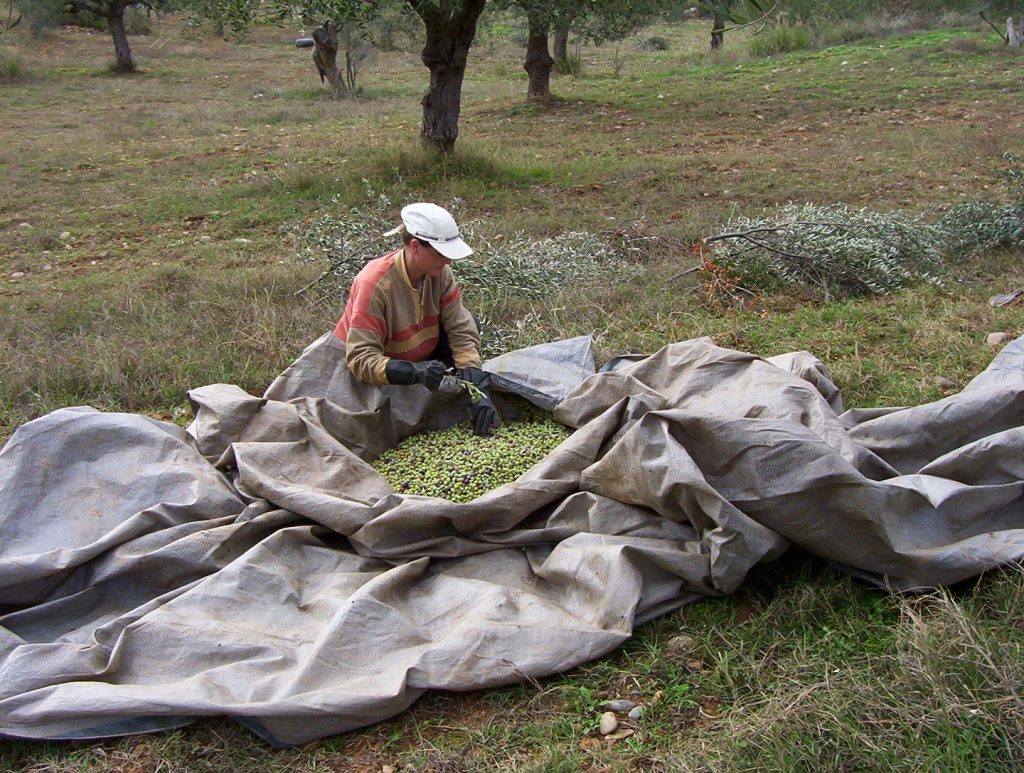 due to limited road access to the olive groves, we carry the fruit ourselves significant distances through the fields. Although it is very picturesque to witness it, it is a labour intensive process to get the olives to the factory for pressing the same day and within 24 hours.
With the exception of personal family consumption in Greece, 100% of the Extra Virgin Olive Oil (EVOO) and Olive production of Spartan Rolling Hills (SRH) are exported for bottling, packaging and sale in Canada.
If you are interested in becoming an approved retailer or if you wish to purchase a case or two for gifting, contact us by phone at 647-321-6451 for Nick or 416-826-7875 for John. Or send an email to info@spartanrollinghills.com. We can ship to anywhere in the world.
Check the Store Locator for a retail location near you to purchase our Spartan Rolling Hills products.