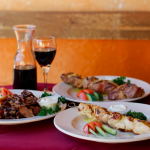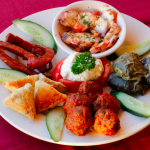 Spartan Rolling Hills Extra Virgin Organic and Regular Olive Oils. Harvested in Laconia Sparti Greece, bottled and packaged in Canada.
Why Extra Virgin Olive Oil (EVOO) from Spartan Rolling Hills?
Olive oil is an integral part of the Mediterranean diet. It is associated with sensitive tasty portions and slower, more enjoyable eating. People who eat a "Mediterranean diet" have been shown to have a remarkable variety of health benefits.
Olive oil can quickly satisfy hunger and lead to fewer total calories. Studies suggest that olive oil decreases rates of cardiovascular disease and cancer.
Extra virgin olive oil is one of the few oils that can be eaten without chemical processing. Nearly every other vegetable oil is detoxified and refined with steam and solvents. Fresh picked and  pressed olive oil can be eaten immediately and retains the healthy natural flavours, vitamins and Polyphenols and Antioxidants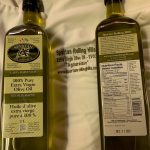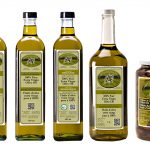 The special southern Greek climate near the sea, mountains with long sun drenched days are ideal for top grade olive oil and olives. The excellent growing conditions, coupled with centuries of family love, tender care and experience, results in producing the best Extra Virgin Olive Oil and Olives possible.
Our early harvested Regular and Organic Extra Virgin olive oil is produced with the traditional cold-press process without use of heat or chemicals. It is 100% pure Greek olive oil from the Spartan area. We harvest early in the crop season that gives our oil that rich green colour and "agourelaio" aroma and flavour. There are no additives or less expensive grade of olive oils added as is often the case in less expensive olive oils sold in Canada and USA.  Refer to this article by the Canadian Broadcasting Corporation CBC.
Spartan Rolling Hills, family members travel between Canada and Greece each year to oversee the harvest, selection and production of our olive oil and olives. The products are then shipped to Canada for bottling, packaging, distribution and sale.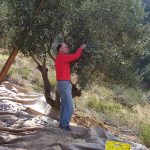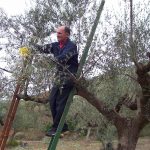 Spartan Rolling Hills is a registered grower and exporter of Greece. As such is compliant with all Greek and European laws dealing with production, harvest, processing and labeling that meets and exceeds all standards set the Europe, Greece, USA and Canada.
We guarantee that our Spartan Rolling Hills Extra Virgin Olive Oil is 100% pure Greek olive oil and guarantee the Oleic acidity to be below < 0.8 %.
What is the difference between Extra Virgin Olive Oil, Virgin Olive Oil and so on?
All olive oil is not created equal. Climate, handling, pure vs blends are just as few of the reasons.
Some definitions such as "What is the difference between extra virgin and virgin olive oil?"  can be found courtesy of IOOC at:  http://cesonoma.ucanr.edu/files/27262.pdf and at:
https://www.internationaloliveoil.org/olive-world/olive-oil/
First Pressed
First press is not an official definition for olive oil. A century ago, oil was pressed in screw or hydraulic presses.  The paste was subjected to increasingly high pressures with subsequent degradation in the flavor of the oil.  Today the vast majority of oil is made in continuous centrifugal presses.  There is no first or second pressing, there is usually only a first press.
Cold Pressed
Cold pressed olive oil is made by milling the olives into paste under cold conditions.  Cold pressed is not a reliably regulated label description for olive oil. Some additional and just as not reliable is term Iced Cold Pressed. The harvest and pressing is during winter when the natural temperature is cool or cold and thus the processing is naturaly cold pressed.
Extra Virgin Olive Oil (EVOO)
Virgin olive oil is expressed in Oleic acidity and can not exceed  0.8 %.  Impeccable taste and aroma. Used on salads, added at the table to soups and stews and for dipping….and yes you can cook with Extra Virgin Olive Oil.
Virgin Oil

Perfect flavor and aroma with a maximum Oleic acidity of 2%
Ordinary Virgin Olive Oil
Good flavor and aroma with a maximum acidity of 3.3%. It is an ordinary oil and fine for frying or where flavour is not important.
Olive Oil
This is a low cost refined oil, mixed with a flavorful virgin oil.
Refined Olive Oil or Pure Olive oil
This is obtained by refining virgin olive oils which have a high acidity level and/or organoleptic defects which are eliminated after refining.
Over 50% of the oil produced in the Mediterranean area is of such poor quality that it must be refined to produce an edible product. Note that no solvents have been used to extract the oil but it has been refined with the use of charcoal and other chemical and physical filters. An obsolete equivalent is "pure olive oil"
Lite or Light Olive Oil  
In the U.S./Canada, flavourless and often low quality refined oil is sold as "lite" or "light" oil for a premium price. The "light" designation refers to flavour, not caloric content, as all olive oil has the same amount of calories.  There is no official definition of lite or light
Pomace Olive Oil
A mixture of pomace oil and virgin olive oil.  Any oil that hasn't been removed by the first cold pressing is extracted using steam and solvents. This is pomace oil. It is considered an inferior grade and is used for soap making or industrial purposes
Olive Cake
Olive cake is the solid phase after pressing the olives. Also called pomace or sansa. Heating the paste increases yield but degrades flavour. Heating beyond that point would degrade the flavour of the oil to the point where it would not qualify as extra virgin. After the oil is pressed out of the paste, the dry pomace (pits and flesh) is sometimes sold to refineries where steam and solvents are used to remove any residual oil.
Lampante Virgin Olive oil
Virgin olive oil with an acidity of more than 3.3% and/or whose organoleptic characteristics have defects. Not fit for direct consumption. Always refined; you won't see oil for sale in this classification.
If you are interested in becoming an approved retailer or if you wish to purchase a case or two for gifting, contact us by phone at 647-321-6451 for Nick or 416-826-7875 for John. Or send an email to info@spartanrollinghills.com. We can ship to anywhere in the world.
Check the Store Locator for a retail location near you to purchase our Spartan Rolling Hills products.